---



INSPIRED WARES FOR YOUR HOME TO BE USED DAILY



SILT CLAY MUG

SIP YOUR MORNING BREW IN THIS SOFT AND GENTLE HAND MADE MUG. GLAZED IN A SILKY MATTE PINK, YOUR BEVERAGE WILL TASTE SMOOTH AND DELICIOUS. HOLDS 12 OZ.
WAVE CUP

A TUMBLR WITH GOOD GROOVE. FEELS GOOD TO HOLD WITH EACH FINGER IN MIND. RAW STONEWARE EXTERIOR FINISH WITH A SMOOTH, LIGHTLY SPECKLED WHITE INTERIOR. MADE BY JULIE CLOUTIER AND HOLDS 12OZ.
LEDGE CUP
THE SIMPLEST, MOST COMFORTABLE CUP TO HOLD. THIS CUP WITH ALTERNATIVE "HANDLE" PROVIDES THE PERFECT PLACE TO REST YOUR FINGER. MADE BY THE JULIE CLOUTIER AND HOLDS 12OZ.
LINE CUP

CUP WITH CARVED LINES ADD A TEXTURAL DEPTH THAT IS PLEASANT TO THE TOUCH, ROUGH BUT NOT TOO ROUGH. RAW STONEWARE EXTERIOR FINISH WITH A SMOOTH, LIGHTLY SPECKLED WHITE INTERIOR GLAZE.
MADE BY JULIE CLOUTIER AND HOLDS 12OZ.
POUR OVER

THIS STONEWARE COFFEE POUR OVER IS PERFECT FOR THAT AROMATIC MORNING BREW. THE INTERIOR IS CARVED FOR EASY FLOW AND GLAZED IN A SPECKLED WHITE. MADE BY JULIE CLOUTIER.
VISIONS WATER VESSEL

DRINK MORE WATER! VISIONS WATER VESSEL FOR GOOD HYDRATIONS + CELESTIAL WATERS. SIZE AND SHAPE CAREFULLY SELECTED TO FEEL GOOD IN YOUR HAND AND FIT NICELY IN A TOTE.
GLASS, METAL CAP, 32 OZ
ORACLE OIL

PREMIUM GREEK EXTRA VIRGIN OLIVE OIL MADE FROM 100% ORGANIC KORONEIKI OLIVES, WHICH ARE UNUSUALLY RICH IN POLYPHENOL AND OLEOCANTHAL — CREATING AN OIL WITH A VERY LOW ACIDITY LEVEL OF 0.26%.
EMOCEAN MAGAZINE 01

A SURF-CENTRIC MAGAZINE THAT CHAMPIONS DIVERSE PERSPECTIVES, RADICAL CREATIVITY, RELATABILITY AND EMPOWERMENT, AND ESPECIALLY THE NARRATIVES OF WOMEN, BIPOC AND LGBTQ+ SURFERS.
ESPIRITUS DEL ANDE INCENSE

HANDCRAFTED NEAR CUSCO, PERU ON A SMALL FARM COMMITTED TO COMMUNITY DEVELOPMENT AND QUECHUA TRADITIONS. THE ESPIRITUS DEL ANDE OFFERS A NATURAL MORTARED PALO SANTO WOOD, WIRACOYA SHRUB IN THE PURE PALO SANTO BLEND. BOX WITH 6 BARS
WHITE SAGE LAVENDER

A MIX OF MOUNTAIN SAGE AND LAVENDER. CAN BE USED IN A RITUAL CEREMONY, HOUSE CLEANSING OR SIMPLY FOR AROMA PLEASURE. MEASURES 4 INCHES.
GRANDMOTHER SMUDGE

THE SACRED HERBS SAGE, CEDAR AND SWEETGRASS HONOR AND INVOKE GRANDMOTHER'S BLESSINGS. THESE SMUDGE STICKS ARE IDEAL FOR NEW MOTHERS, GARDENERS AND ANYONE IN NEED OF GROUNDING AND CONNECTION. USA MADE FROM 100% ETHICALLY WILD CRAFTED PLANTS.
FARALLONS "PLANT LIFE" CASSETTE

ILLUMINATING ETHERIC SONGS WRITTEN BY ANDREW BRENNAN AND AUBREY TRINNAMAN, IN WEST MARIN CALIFORNIA. RELEASED MAY 29, 2020 ON NIGHT BLOOM RECORDS
GREEN-HOUSE
"SIX SONGS FOR INVISIBLE GARDENS" CASSETTE

WRITTEN WITH THE INTENTION OF TRANSFORMING THE LISTENING ENVIRONMENT AND IS DESIGNED AS A COMMUNICATION WITH BOTH PLANT LIFE AND THE PEOPLE WHO CARE FOR THEM.
NAILAH HUNTER "SPELLS"

SOUNDS THAT TAKE YOU ON A JOURNEY BEYOND - INTO SONIC REALMS OF YOUR EXPANDED IMAGINATION. FEATURING HARP AND ANGELIC VOICES, THIS ALBUM IS AN INCANTATION - A SPELL TO PROPEL YOU INTO A WORLD OF TRANQUIL PERCEPTIONS.
LARAAJI 80s CASETTE RECORDINGS

TONINGS - SHIMMER OF CELESTIAL ZITHER AND RESOUNDING OM CHANTS FOR EXPANDED INNER STILLNESS.
CELESTRANA- DEEP DIVE INTO A MEDIATION ON ORIGINAL HOME CASSETTE RECORDED IN THE 80S FEATURING CHIMES FOR INTROSPECTIVE LISTENING
SUN ZITHER - "REFRESHING NEW SOUND JOURNEY THROUGH ECSTATIC HAMMERED OPEN TUNED ZITHER STRING BOARD"
U TURN ORBIT SPECIAL TURNTABLES W/ BUILT IN PREAMP
HANDMADE TURNTABLES FOR EXPRESSIVE AND UNCOMPROMISED PLAYBACK IN HARDWOOD BASE OF MAPLE OR WALNUT. FEATURING AWARD-WINNING ORTOFON 2M RED CARTRIDGE- FOR OPEN AND DYNAMIC SOUND. THE CLEAR ACRYLIC PLATTER FOR SPEED CONSISTENCY AND MORE DETAILED PLAYBACK WITH AN EXTERNAL BELT DRIVE TO ELIMINATE MOTOR NOISE AND ENSURES SPEED CONSISTENCY (33/45 RPM)
*** AVAILABLE FOR
PICK UP
ONLY ***
SHAY ROSELIP "EVER PRESENT CALM"

MUSIC BEAMED FROM THE PLEIADES. STARLIGHT MASQUERADES AS PROPULSIVE MULTI-LAYERED GUITARS AND WOODWINDS. OCEANS OF VINTAGE SYNTH TONES SPILL OUT LIKE THE MILKYWAY. AND A HUSHED AND BEAUTIFUL VOICE SHINES COOL AND CLEAR IN THE MOONLESS NIGHT. ONE OF OUR FAVORITES!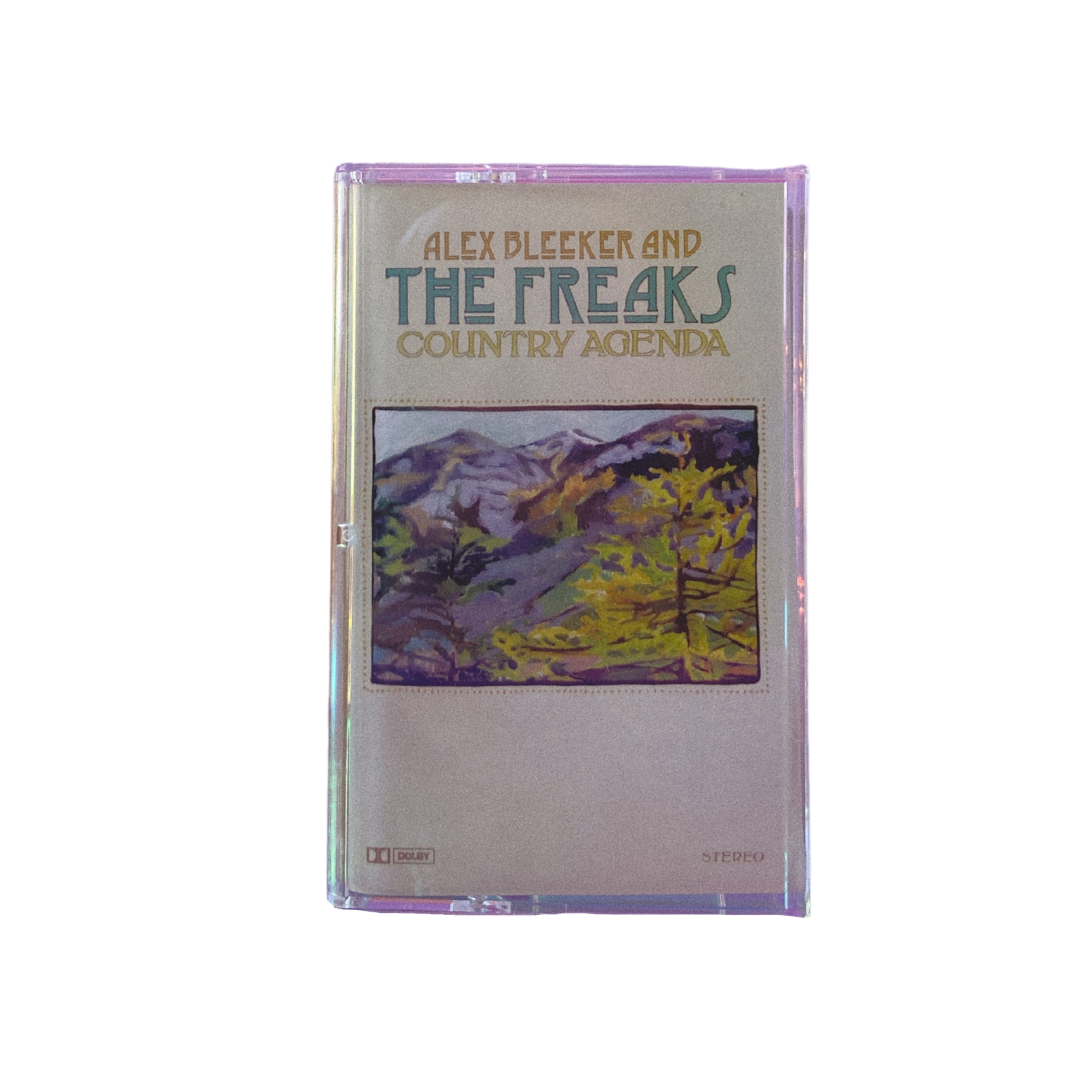 ALEX BLEEKER AND THE FREAKS "COUNTRY AGENDA"

THE BAND'S THIRD ALBUM IS THE CULMINATION OF BLEEKER'S SONG WRITING, WITH THE FULL-TIME INCLUSION OF GUITARIST ALEX STEINBERG, BASSIST NICK LENCHNER, DRUMMER DYLAN SHUMAKER AND KEYBOARDIST JACOB WOLF, ALONG WITH OCCASIONAL GUEST VOCALS FROM MOUNTAIN MAN SINGER MOLLY SARLE. AN ALBUM FOR GOOD SUMMER VIBES
REAL ESTATE

DEEP SPACED OUT INSTRUMENTAL EXPLORATIONS FROM BELOVED ROCK BAND, REAL ESTATE ! THIS TAPE IS SO RARE IT IS ONLY AVAILABLE RIGHT HERE. ESSENTIAL FOR DEEP HEADS AND CASUAL FANS ALIKE.
"PATH OF THE SUN"

AMBIENT DREAM SCAPE FOR CRUISING DOWN THE COAST. A COLLABORATIVE PROJECT BETWEEN DANIEL GUILLÉN AND STEVE TARGO, KNOWN FOR THEIR SOLO ENDEAVORS AS LUNARIA AND INNER TRAVELS, RESPECTIVELY. THE TWO HAVE WALKED PARALLEL PATHS, RELEASING THEIR OWN BRANDS OF INWARD-LOOKING SYNTHESIZER AND KEYBOARD DRIVEN MUSIC THROUGHOUT THE LAST 5+ YEARS.
BIG LUNCH

A SMALL BOOK OF POEMS BY ROB MOSS WILSON. COMES IN AN OPTIONAL BOOK + CASSETTE BOX PRODUCED BY COOL MARITIME. CARRY THIS BOOK IN YOUR POCKET AND OPEN AT RANDOM FOR AN INSIGHTFUL MOMENT OR HEARTY LAUGH.
SIGNAL SYNTHESIS

A RISO COLLABORATION MATT KATSAROS AND CONNOR SCHMIDT, SIGNAL SYNTHESIS EXPLORES WHAT HAPPENS WHEN YOU START WITH ELECTRICITY AND CONTINUE TO CAPTURE, DUPLICATE, STRETCH, OSCILLATE, REPLICATE. EDITION OF 75.
JOURNEY WORK BY DAVID BAILEY

ONE OF OUR FAVORITE LOCAL POETS, THIS BOOK IS BIRTHED FROM A 10 YEAR JOURNEY OF THROUGH THE HIMALAYAS, INDIA, AND FINALLY TO A HOMECOMING AMONG THE FORESTS OF NORTHERN CALIFORNIA. A TRUE POETIC COMPANION FOR ALL THE JOURNEYS PAST, PRESENT AND TO COME.
SAGE WILDFLOWER HONEY

THIS HONEY IS SUSTAINABLY HARVESTED AND IS RAW AKA NO HEAT, NO PROCESS OR FILTERING OCCURS. THE BENEFICIAL ENZYMES ARE STILL PRESENT IN THE HONEY MAINTAINING ITS MEDICINAL BENEFITS. RAW HONEY IS A SUPER FOOD. 6FL OZ. MADE BY HAPPY ORGANICS IN MERCED, CA
HAPPY ORGANICS HONEY

THIS RAW HONEY HAS NEVER BEEN HEATED TO ENSURE ENZYMES STAY INTACT. THIS HEALING HONEY IS NON-PSYCHOACTIVE, MEANING IT WON'T GET YOU HIGH-JUST HAPPY. 6FL OZ.MADE BY HAPPY ORGANICS IN MERCED, CA
ORGANIC BEESWAX TAPERS
IT TAKES 30 DIPS TO MAKE THESE 100% PURE BEESWAX TAPERS. THEY SMELL OF SWEET HONEY. THEY BURN CLEAN AND DO NOT RELEASE HARMFUL CHEMICALS, RELEASE NEGATIVE IONS THAT CLEAR TOXINS, DUST, AND DANDER FROM THE AIR. 6 HOURS BURN TIME AND MEASURES 6". MADE BY HAPPY ORGANICS.
HIGONOKAMI FOLDING BRASS KNIFE
MADE IN JAPAN SINCE 1894, THE SMOOTH BLADE IS LAMINATED WITH AOGAMI BLUE, THE HIGHEST GRADE OF STEEL, RESULTING IN AN EXCEEDINGLY SHARP AND DURABLE KNIFE. FITS ON A KEY CHAIN TOO ︎
OYSTER SHUCKER

SHUCK IN STYLE WITH OPINEL'S QUALITY SHUCKER. POINTED BLADE WITH EDGE OPENS OYSTERS WITHOUT INJURY. VARNISHED WOODEN HANDLE AND LOCKING BLADE. A PICNIC ESSENTIAL.
BEACH BLANKET

IT'S A TOWEL, A BEACH BLANKET, A THROW, A MAGIC CARPET!
THIS 100% COTTON TOWEL WAS HANDWOVEN IN OAXACA USING THE FLYING SHUTTLE LOOM. IT IS BRIGHT, COZY, AND FINISHED WITH A RUSTIC EDGE AND FRINGE. MEASURES 5' X 6'5 MACHINE WASH AND DRY. FRESH OFF THE LOOM, THESE TOWELS WILL SHRINK A LITTLE AND SOFTEN UP ON THE FIRST WASH. MADE BY XYZ WITH VISIONS COLORWAY
︎︎︎BACK TO TOP︎︎︎